It's the festive season and we all can't wait to have a great time, but too much Christmas cheer can quickly turn the party season into a nightmare.
Overdoing it on drink, taking drugs or having unsafe sex can cause damage to your health, relationships and more.
Not knowing your limits, trying something that you wouldn't normally do or drinking that bit too much, means putting yourself at unnecessary risk. It's easy to get caught up in the party atmosphere and do something you might regret. But it could also lead to something much worse.
Making a fool of yourself at the Christmas party or ruining your chances with the person you have liked for ages because you are under the influence of alcohol or drugs is just the start. Both alcohol and drugs, or a combination of the two, can impair your judgment, lower your inhibitions and lead to you putting yourself at risk. You might find yourself a victim of a crime or pick up an STI because you were too out of it to remember to put on a condom.
With any illegal drugs or so called 'legal highs' (New Psychoactive Substances/New Drugs), you don't know what you're getting. New drugs are often incorrectly called 'legal highs' when the truth is that the contents may already be illegal and very harmful. There will be variations in the content, effect and strength and substances which look similar or are sold with the same or similar names can have completely different effects. Even the experts can't be sure what's in them or exactly what they will do to you, so why ruin your Christmas? It's not worth the risk.
Kira Weir, online information officer for Edinburgh-based drugs charity MY CREW, said: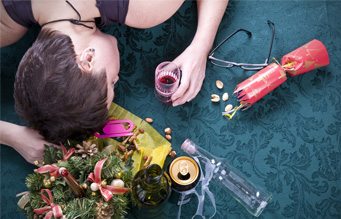 "You can feel like you're stuck in party mode over the festive season. It can be tempting to keep partying for longer than usual but if you want to get the new year off to a good start it's important to stay safe. Drugs, whether illegal or legal, will have different effects on different people, and those effects aren't always easy to deal with.
"We recommend avoiding mixing substances, especially alcohol and drugs. If you're in a hot, busy club you should stay hydrated by taking small, regular sips of water. Try not to have more than one pint of water an hour if dancing, and no more than half a pint if not. Making sure you have a healthy meal before you go out can mean you are less likely to feel too drunk or feel sick or dizzy.
"You should also think about keeping safe in the cold weather – drugs and alcohol can affect your ability to notice the cold, so dress for the weather, and stick with your friends and think about how to get home. Buses and trains can get cancelled. Spending extra money on a taxi to get home safely is worth it in the long run!
You can feel like you're stuck in party mode over the festive season. It can be tempting to keep partying for longer than usual but if you want to get the new year off to a good start it's important to stay safe.
"And if you or a friend ever feels unwell on a night out or falls and hits their head, make sure you tell someone. Stay with the person while you wait on help arriving. Be honest with staff in nightclubs or paramedics – it's better to get the right treatment than hide what you have taken."
Alcohol dents your judgment meaning you might take part in sexual activity you regret in the morning, as Dr Linda de Caestecker, Director of Public Health, NHS Greater Glasgow and Clyde, explains: "For some revellers this can lead to uncharacteristic behaviour because of the alcohol lowering their inhibitions and leading to risky sex and possibly a sexually transmitted infection."
"If anyone decides to have sex they should make sure they use protection. Sexually Transmitted Infections (STIs) are virtually all preventable. Using a condom will protect you from infections like this, not to mention the transmission of HIV and anyone who is sexually active should take condoms with them. It's better to be safe than sorry."
Christmas Safe Tips
To help you stay safe over the festive season, here are some simple tips:
Space out your drinks with soft drinks or water
Don't mix substances – this includes mixing drugs with alcohol. Combining substances can have serious health implications and can be life-threatening
Stay with friends – make sure someone knows who you are out with and where you are. Look after each other – if you are concerned about someone get help
Get home safely – make sure your phone is charged and plan how you're going to get home before you head out. Travel with friends, use well-lit routes and keep your mobile handy. Keep a list of important numbers in or by your phone
Carry a condom and use it if the moment arises
Seek help quickly if you need to and be honest with emergency services staff about what you or a friend has taken.
So before you sort your festive plans, get the facts on alcohol, drugs, and safe sex.